A Welcome Home Pig Picking Cake
June 30, 2011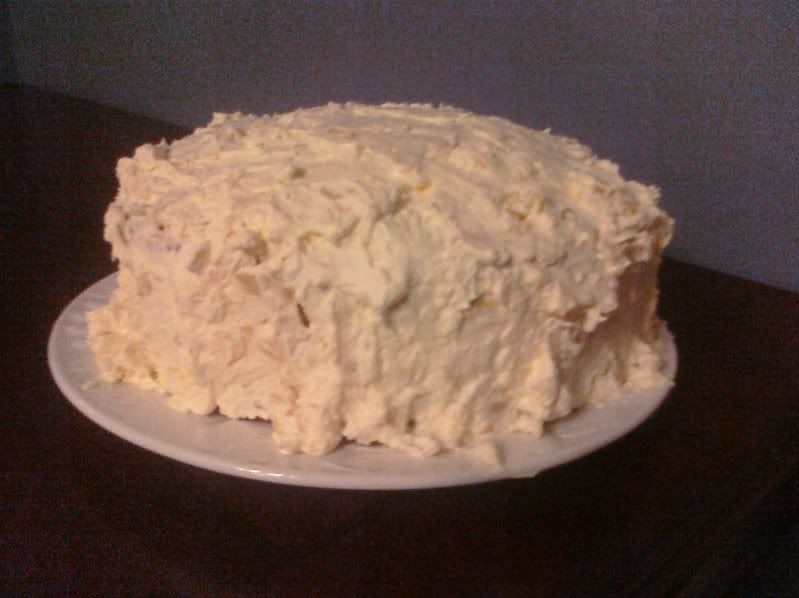 This week Becky has been in Jacksonville, Florida for a conference.  I have missed her terribly.  She is a big help with the kids and while I have kept the house presentable I know there is a bit too much dust and a mountain of laundry for her liking.
In an effort to help her look past the dust bunnies and pile of clothes I decided to bake her favorite cake.  When I first met her she told me it was called a Pig Pickling Cake.  The name was odd, but it tasted great.
Over the years the name of the cake written on the receipe was determined to have been incorrectly transcribed.  Instead of Pig Pickling Cake it should have been Pig Picking Cake.  Regardless of the name the ingredients were the same and with the help of Mason we made a wonderful surprise for his mommy.
For the cake:
- 1 boxed yellow cake mix
- 1/2 cup oil
- 15 oz. can of mandarin oranges (diced and pour the juice in the batter)
- 4 eggs
For the icing:
- 1 container of Cool Whip
- I small box instant vanilla pudding
- 20 oz of pineapple (drained)
In a large bowl combine the cake mix, eggs, oil, mandarin oranges and juice from the manadrin oranges.  I bake them in two round pans that have been greased and floured but you can also bake it in a 13 x 9. Once the cakes are done, let them cool for 10 minutes before taking them out of the pans and setting them on a wire rack.
Once the pan is completely cooked mix the icing ingredients in a bowl and spread over the cake. The cake is best if it rest in the refrigerator for a day or two.