A Southern Breakfast, Grocery Shopping and a Block Party
July 18, 2009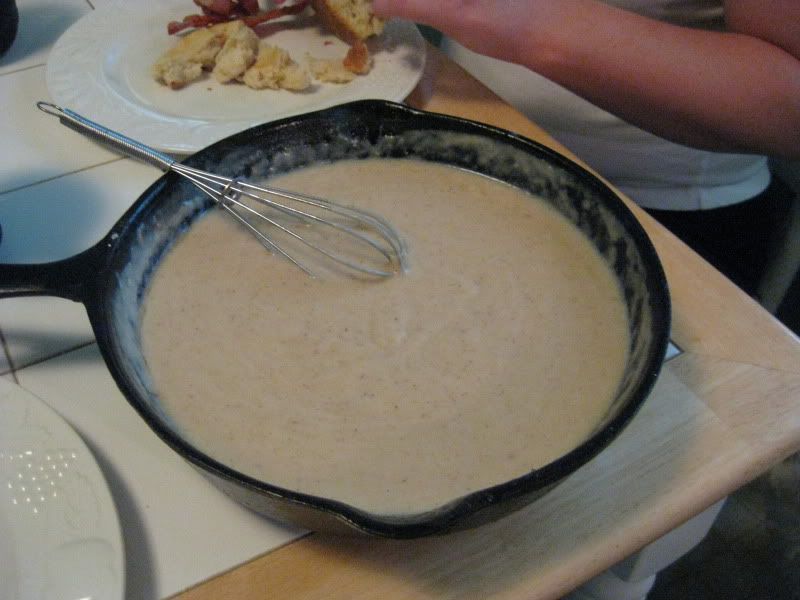 The last time I tasted Becks' grandma's biscuit and gravy recipe was when she made it on Paula Deen's television show.  I had been asking he to make it for sometime now and this morning she made up a skillet full.  She also invited Charlotte and Steve over to share in the artery clogging goodness. 
Any recipe that utilized a pound of bacon grease as its base was not going to be heart healthy but it turned outvery tasty.  After cooking the bacon Becks dropped in 5 sausage links that Steve brought over to make sure our cholesterol would be off the charts.  Once this was cooked she added flour, milk, salt and pepper to the grease to make the gravy.  We poured this over biscuits Becks had put in the oven and ate them with bacon, sausage and eggs that had also been cooked in the bacon fat. Ridiculous.
After taking 5 years off my life Becks, Mason and I drove up to Thomasville to do some grocery shopping and pick up a gift for her friend Tanya.  We were under some tight time constraints as we had been invited to a block party at our friends house at 4 o'clock.  While Becks poked around Limelight I held Mason and strolled around the store.  She eventually found something she liked and we headed for the grocery store.  Mason decided he wanted to be held as we walked up and down the aisles but he did behave very well. 
Once we had everything on our list we headed home.  After the groceries were put away I steamed up some fresh summer squash, tossed them in olive oil and lightly seasoned them.  Since the party was happening in the South I figured that there would be a ton of casseroles and wanted to bring a vegetable that tasted like a vegetable. 
When we got there Dana's car port was decorated very nicely and there were all sorts of people in attendance.  Several tables were set up for people to eat at and along one side two tables were lined with food.  There were numerous casseroles, salads and desserts.  Dana had provided the meat and had cooked a ham Cuban style and a turkey breast.  
Unfortunately, Mason became very fussy a little after we started eating because he had missed his afternoon nap.  As a result Becks only got to eat a little bit of her food before heading home.  I stayed for an additionally 1/2 hour and then thanked Dana for inviting me as I did not want to leave her alone with a fussy baby.  Overall, Dana did a great job organizing the party! The food was very good and it was fun getting together with people from the neighborhood, city and surrounding county.