I Feel Like Tom Sawyer
April 28, 2009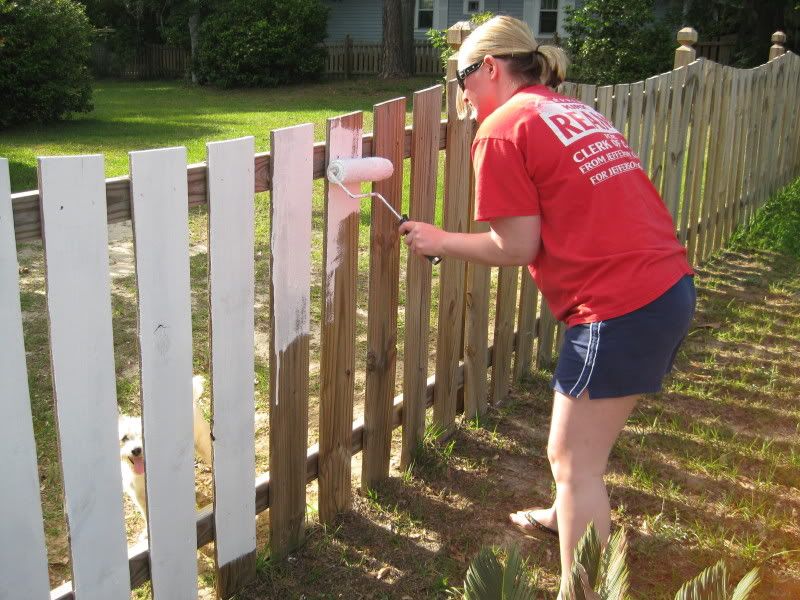 Becks and I started painting the fence last night and when we got home from work this evening we resumed our task.  The fence is about 500′ in total length and painting both the back and front are going to take a lot of time and a lot of stain. 
Unlike Tom Sawyer Becks and I were not able to convince any of our friends (or random passersby) that staining a fence is fun instead of work.  As a result, Becks has been responsible for using a roller to cover the large parts of the boards while I use a brush to paint the sides, tops and bottoms.  So far painting a fence is a lot harder than painting a room in our house. 
It has been a very slow process and by the end of this evening we had been able to finish three sections of the fence.  My dad suggested that I hire someone to paint the fence but right now I would rather try to do it a bit at a time to save some money.  However, using a roller and brush is a little too slow and I am going to look into renting a paint sprayer with a compressor from Home Depot in the next few weeks.  This will allow us to buy a few gallons of the "white gold" and hopefully get at least the front section of the fence completed.
After finishing up for the night I looked at what we had done and how it looked with this house.  Although I initially wanted to keep the fence its natural color I must admit that the white does look pretty good.  Once this project is finished the whitewashed fence is going to make our little bungalow look much nicer!